Its that time again!!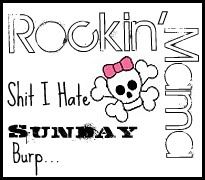 LAST MINUTE PLANS: bitch, dont get pissed at me for your poor planning.
PEOPLE WHO DONT RETURN CALLS: Ass wipe, you are running a bussines. Call a bitch back.
NOT HAVING ANY ENERGY: this cold is kicking my ass
WHEN MY KIDS DONT LISTEN
TEMPER TANTRUMS
BEING BROKE
YARD WORK
FIGHTING WITH THE MR: its almost ALWAYS over the same shit
Dont forget to click the button and check out
ROCKIN MAMA
and the rad other bitches linkin up this week!!