BROUGHT TO YOU BY THE LETTERS
F, U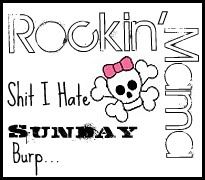 DESTINY AT ROCKIN MAMA
I hate when the Mr bugs me while I'm blogging...
seriously, keep your fucking shit to your self while I'm in the zone...
i took me 5 min to type that sentence cause I'm a sexy bitch and he cant control him self.
DOWN BOY
I hate stupid bitches who talk shit,
yeah bitch,
I'm talking to
YOU!!
i hate anonymous commenter's...
quit creepin..
i disabled that shit,
that will teach you.
I hate when there is a ton of toothpaste splatter on the mirror above the sink..
gross, clean that shit up.
I fucking hate Sundays...
why cant it be Friday
everyday....